Specific
GLYCOLIC ACID
Description:
After several years of research, it is concluded that Glycolic Acid is up to now the only product that provides a comprehensive solution to the problem of aged skin.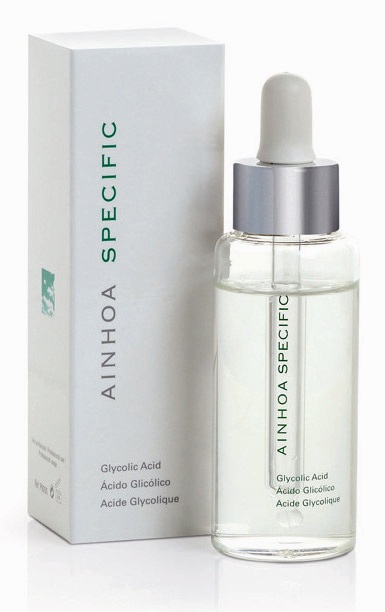 The exfoliating product by excellence, Glycolic Acid which is made with Sugar Cane, increases and facilitates the renovation of the corneal skin layer, leaving the surface smooth and refined. It can selectively removes cell scales that can and must be exfoliated, based on a process that destroys the "cell cement" that binds them together, and prevents the penetration of moisturizing or nourishing products.
It gives way to the treatment products that are to be applied later, so that they reach the deepest skin layers, for instance, in the epidermal areas where the Hyaluronic Acid is found, and increasing its capacity to capture the moisturizing component of the products.
For this reason, there has recently been great interest in the properties of the different acids.
Mechanisms of action of Glycolic Acid:
Gentle, gradual exfoliation.

Counteracts the aging effects and has a deep moisturizing power.

Increases the cells of the Spiny Layer, in the case of young skins.

Induces tissue regeneration. Increases Collagen and Elastin synthesis.

Increases endogenous hydration, filling in the skin's creases.

Smoothes surface lines, clears skin and leaves it terse, fresh and radiant.
Directions: For all skin types. Recommended for thick, mature, combination, dry and dehydrated skins.

How to use: Apply after complete facial cleansing, leave to work for 10 minutes and then remove with water. Followed by the Hyaluronic Acid.

Main ingredients: Glycolic Acid (25%), Lactic Acid, Citric Acid & Tartaric Acid

Capacity: 50ml