Specific
ENZYMATHIC PEELING
Description:
Enzymatic Peeling eliminates impurities and progressively renews the skin cells of the corneous layer. It favours skin oxygenisation and a visible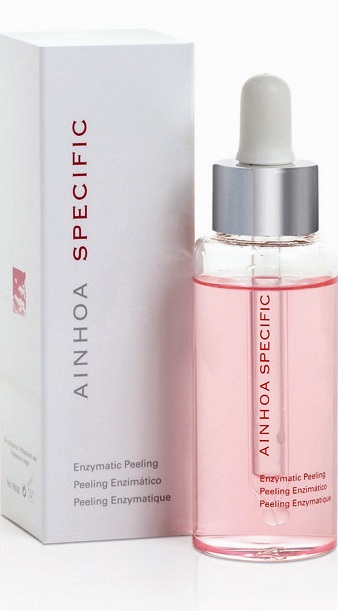 reduction of the corneous layer. Due to being a progressive and selective exfoliation, it does not harm the skin.
It consists of an exfoliation by enzymes. These hydrolyze proteins converting them into amino acids. These then dissolve superficial dead skin cells, therefore, favouring elimination without the need of friction. It also gives way to active ingredients.
Directions: For all types of skin.

How to use: After cleansing and toning the skin, apply to the face using a brush. Leave to work for 15 minutes and Remove with a damp sponge or cotton wool. Followed by Hyaluronic Acid recommended.

Main ingredients: Enzyme Derivates of the following Fruit Acid Extracts: Lemon, Strawberry, Mango, Kiwi, Pineapple, Papaya & Anti-aging peptide

Capacity: 50ml